We are Bryan and Trish, and we live in Rural Waikato, New Zealand.We got married early 2005 and are both passionate about the Pomeranian and Chinese Crested Dog Breeds.
2006 seen the start of our showing carreer, with many dogs titled since then.
We take the dogs health seriously, in 2018 Trish is now the breed health advisor for the Pomeranians. We health test our breeding stock to ensure pups have best start in life.
Some of our successes are group and in show awards, but our best acheivement to this date is the happiness we provide from people who have brought a happy healthy puppy from us. Its a win win for all!!
We are lucky to have imported from overseas, and even exported overseas. We do try to improve on our lines and improve on the breed type
We have added some Cresteds to our pack, we adore them very much and we cannot thank Paul O Grady from Juleko Kennels for our gorgeous dogs. We are very much enamoured by them and will always have a crested
Trish started her Judging carreer in 2014, something she is very passionate about.
We love to make freinds, so do pop along to a show and meet us, wed love to meet you and chat dogs!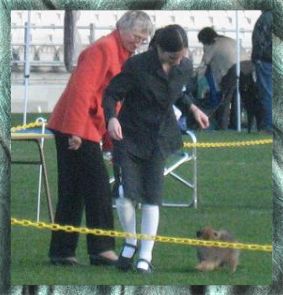 (Brianna (our daughter) and Fiver in the ring with a Judge, this puppy went Best Baby Puppy In Show)

I am on facebook, you can join me there to see more antics of my special furry kids!