We are Bryan and Trish, and we live in Rural Waikato, New Zealand.We got married early 2005 and are both passionate about the Pomeranian Breed.

We got into showing in early 2006, with our boy Sambucca, who although loved showing is not the stuff champs are made off. He was sold as Show Quality, but is anything but! We were besotted by the breed by this time so we went in search of more poms, and welcomed some Pomdale poms into our home, with
Molly gaining her title very quickly
Brianna our daughter helped show our poms, and her own show dog casper, but has since flown the coop and is now studying some brainac nano -bio-physic-chemistry stuff at Uni.

In 2009 we were offered a dog, Carlos, who is now retired, but still Trish's baby! He won many Best of breeds- too many to count, numerous in groups, including Best and Reserves. He is such a stunning dog with still a lot to offer the breed, and will be siring more litters. I have semen available from him, and of course he is still happy to see to the ladies
Bryan has a bond with Gracie whom we titled in 2012, she adores her 'daddy' and he spoils her rotten, shes a lovely girl who enjoys being top girl and bossing the younger ones around lol.

We dont breed often, when we do it is because we want something ourselves, HOWEVER, sometimes pups or older dogs are available, and I am more than happy to reccomend good breeders, and exhibitors. If you have the time, come along to a show and introduce yourself, always room for one more chair!!
Our numbers change week to week, month to month, we often look after a puppy while the owners go on holiday, we have litters, we may even lease a bitch or stud. We never go past the amount of dogs we cannot keep in perfect condition, grooming etc. We are concerned about the very large numbers of dogs that some breeders keep, and we dont want to fall into that trap, so sometimes a older dog that has finished showing and breeding will be placed into a forever home.
Sadly 2015 seen Max and Snow leave us, may you forever R.I.P we will never get over loosing you.
We live with our pack of poms and cresteds, 2 cats and our son Anthony.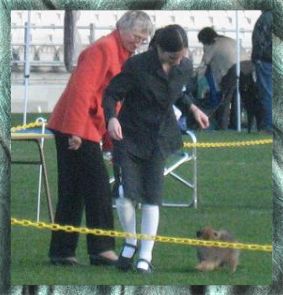 (Brianna and Fiver in the ring with a Judge, this puppy went Best Baby Puppy In Show)

I am on facebook, you can join me there to see more antics of my special furry kids!