In 2009, Brianna's dream of owning her own show dog came true.

We are so grateful to Rowena for helping Brianna and her goal.
Casper Of Lanksy, Brianna's very own show dog.
WINNING BEST OF BREED, 2009 NZKC NATIONAL DOG SHOW!!!!
Brianna is so pleased!
UPDATE!

Brianna titled Casper, so he is now known as
NZ CH Casper Of Lanksy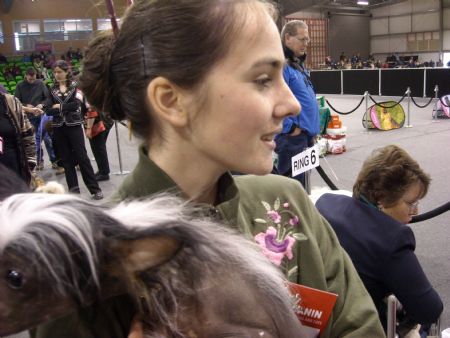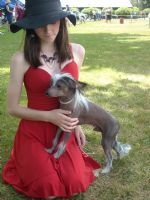 Casper thinks he is a pomeranian, if he sees his reflection, hell bark madly at it, He is quite happy to be around other Poms, and I think he doesnt realise he is a different breed! He came to us as a happy 8 week old, who didnt like the poms at first, but our boy bucca, ever the maternal creature he is, had casper under his wing in no time, be it large or small, if its a baby its buccas!... Casper is such a crack-up, and loves to make you laugh. On cold days he will get under the blankets if there is room, many a time he has woken Trish up by a cold nose running down her back! We cant stay mad at him for long, with his beatiful big eyes and willingness to learn, he is very much loved. I take offense at anyone calling him ugly, so please do not go around calling dogs ugly. Each to thier own taste, and although poms and the crested are well apart in terms of coat, all are beautiful to us.
Caser has retired from the show ring to sun bathing, toy stealing and cold nose down trishs back on cold days duties!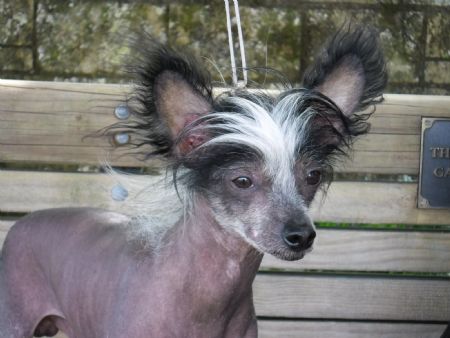 Maybe all the growing up Casper has done with the Poms has rubbed off on him, he certainly acts like one LOL